The next time you're cruising the waterways, or taking a winter stroll, take a moment to consider the – often unseen – work that goes into ensuring we're able to continue enjoying them for many years to come.

---
Words & Pictures by Martin Ludgate
---
It's a little bit like what I was taught a long time ago in school woodwork classes – but with 'inches' replaced with 'feet'. I'm at Stanley Ferry lock gate workshop by the Wakefield Branch of Yorkshire's Aire & Calder Navigation, where carpentry is taking place on a grand scale. Where I would have clamped a piece of timber in a bench-top vice and attacked it with a chisel, here it takes three men and a power hoist to move some of the huge lumps of timber that make up a typical set of the broad-beam lock gates which comprise most of Stanley Ferry's work.
As Workshop Supervisor Andrew Bayliss explains, out of the Canal & River Trust's two remaining lock gate workshops (two other sites at Bulbourne and Northwich closed about 15 years ago) this one handles most of the work for wide canals, while Bradley Workshop on the Birmingham Canal Navigations network tends to concentrate on gates for narrow locks. That's partly because of their location – Stanley Ferry is surrounded by large-scale Yorkshire waterways, while Bradley is at the heart of Midlands narrowboat country – but also because there's more headroom to move larger gates around here, using a travelling crane running the length of the building.
Several sets of gates are being worked on simultaneously and are at different stages of completion: at one end a set are complete and ready to go out, others are still at the stage of putting the first timbers together, while out in the yard, completed gates are waiting for delivery to site. They're marked as being for locations on widebeam routes all over the system including Fishery Lock 63 on the Grand Union, one of the Wigan Flight locks on the Leeds & Liverpool and Greenham Lock 86 on the Kennet & Avon.
PURPOSE BUILT
That's right: every gate is individually built for a particular lock – because no two locks are quite the same. To begin with, although lock gates for broad canals are generally built to a basically similar design – a wooden frame constructed in heavy timbers with lighter weight planking added, recessed into the frame – many canals' lock gates had detail differences from other waterways. The workshop retains these distinct details, such as the second layer of planking (at right angles to the basic planking) that's a feature of southern Grand Union gates. Sometimes there's no option – some locks are listed structures – but Andrew says there's a general presumption in favour of replacing like-for-like.
Even within one canal, the gates will often vary considerably. Locks may nominally be the same width, but they'll probably vary by the odd few inches. And likewise the height; especially on the bottom gates whose height is dependent on how great the rise and fall of the lock is.
But there's more: Andrew mentions a further two measurements, the taper and the batter, which it's equally crucial to get right. These refer to how much the lock walls slope outwards from bottom to top, and the amount by which the gate quoin (the masonry against which the gates pivot) leans towards the bottom end of the lock. Get either of these wrong and the gate won't fit.
And while it's a feature of different waterways (Leeds & Liverpool lock walls are close to vertical; Grand Union ones lean back a fair bit) it too varies a little from lock to lock. And bear in mind that all these measurements have to be taken in advance, with the old gates still in the lock and the canal in water. A little on-site trimming is to be expected to get a good seal when fitting the gates, but they need to be a decent fit already. I can see one of the workshop's staff making some adjustments to a set of gates with a power router.
Meanwhile in an interesting combination of old and new, Andrew mentions use of AutoCAD software to design the gates to the right dimensions, as I admire a set of very traditional looking marking gauges (all marked in inches) hanging on the workshop wall.
GRAND SCALE
Andrew's in his 24th year at Stanley Ferry. Like all his team of 13 (which recently gained its first female member) he served an apprenticeship in joinery – but as he explains, it takes a year or two to turn what you learn on an apprenticeship into the large-scale woodworking skills needed for lock gates. In his time, he's worked on gates for canals all over the country – even some for the Caledonian Canal back in the days before Scottish canals were separately administered – and explains that Stanley Ferry's team need to be ready to deal with gates from waterways whose local design details they might not have had to handle for two or three years.
The largest gates he's ever handled were for Boston Grand Sluice lock on the River Witham – with a 15in timber thickness, they weighed in at something approaching 15 tonnes each. The workshop crane's limit is 12.5 tonnes, so a 'tandem lift' with a pair of cranes loaded each gate into a 'pan' (workboat) in the workshop's dock, which was then manoeuvred out onto the navigation, where a large crane could be brought in to lift the gate onto a low loader.
The timber used is normally oak (95 per cent from British sources, the rest from elsewhere in Europe), or Greenheart for any locks going into salt water. There have been some experiments with tropical hardwoods, but CRT returned to oak partly because of concerns about ensuring the wood is fully certified as being from sustainable sources, but also because the tropical hardwoods were very hard to work with: Andrew mentions problems of machines smoking, a need to resort to hand tools and sharpening chisels every couple of hours.
It takes about three weeks to complete a set of gates for a wide-beam lock, from the planed timber arriving to the finished gates going out ready for fitting. There's the cutting of mortises and tenons for the main frame joints, assembling the frame, then cutting recesses for the planking and fitting it, and fitting the balance beams and any timber for gate paddles.
And that's just the woodwork – there are also 'L' and 'T' shaped steel pieces set in the wood to strengthen all the joints (this is reckoned to add three years or so to the life of a set of gates), plus a steel bar to pull the frames tightly together – we watch one of the staff using a lathe to cut a thread on the end of a length of steel bar for one of these. And then there's the paddle gear to fit – in a variety of regional types, once again generally replaced on a 'like for like' basis.
REPLACEMENT 'LEAVES'
Stanley Ferry and Bradley between them manage to produce around 130 to 150 'leaves' (their name for individual gates, as opposed to pairs) a year – as well as producing the odd wooden liftbridge (for the southern Oxford Canal, for example), repairing lock paddles and other woodwork.
But with something in the region of 5,500 'leaves' on the entire network, at that rate it would take around 40 years to replace all of them – and a typical wooden gate lasts no more than around 25 years. Even allowing for the fact that some gates are steel and will last perhaps twice as long, the rate of replacement still seems a little low.
But as Andrew explains, there's a bulge in demand that will see it "really ramp up in a few years". And the reason is that two of the most heavily locked waterways – the trans-Pennine Rochdale and Huddersfield canals – were restored and reopened around 20 years ago, with many of the gates fitted in the latter stages of restoration. So they're all coming up for renewal in the next few years. And while Stanley Ferry is already near to capacity, Bradley plans to take on extra staff to push the total production across both workshops up to 220 a year.
Before that happens, the Bradley Workshop building has been undergoing rebuilding work including a new roof, shutting it for 10 weeks and leading to concerns about the impact on the gate-building programme. Andrew admits that it was "touch and go" and that quotes were sought from external builders for some gates: these came in at "way more" than CRT's internal costs, so it was something of a relief when they weren't needed.
And that's just the planned work. There's also unscheduled work as a result of accidents or unexpected failures requiring repairs. CRT has invested in new specialist tools including a device that drills a small test hole in lock gate timbers to test the physical resistance of the wood, and assess whether it needs renewing – but it can still happen that an apparently sound timber turns out to be soft inside.
If it proves necessary to bring in a gate for emergency repairs, the workshop can turn round a repair in three to four days – with weekend working if necessary to get the canal back open again. But it's very rare that they need to actually make new gates in an emergency.
HARD AT WORK
As the workshop staff break for lunch, I visit a nearby site to see how some Stanley Ferry built gates have lasted. Kings Road Lock, on the Wakefield Branch of the Aire & Calder Navigation, is currently subject to a closure for various work. It's a typical A&C lock, power operated and with clear signs from its slightly irregular shape of having been lengthened at some time for bigger barges. With the water drained, it looks even bigger from the bottom of the scaffolding tower in the chamber – the walls are about 20ft high, and the curved bottom section of the original part of the chamber shows clear marks of wear from the generations of heavily laden coal boats that have scraped along it in the past.
At the bottom end of the lock, a team of two are putting the finishing touches on some replacement planking covering the top three feet or so of one of the gates. I notice that the top gates still have their maker's plate on them recording that they were made at Stanley Ferry in 1995.
Supervisor John Cottam points out some deterioration in the planking, but says that some re-planking here will get a few more years' use out of them. New cill planks are also being installed on top of the top gate cill, to improve the seal at the bottom of the gates. John explains that it's important that the thickness of these doesn't reduce the maximum draught of boats passing through – there may be no commercial freight right now, but this is still classed as a freight waterway and there's a chance of it returning when a new quarry opens nearby.
As it happens, the actual reason for the stoppage isn't directly related to the gates. On a scaffolding tower part way along one of the lock walls, another team of two are modifying the recess that houses one of the lock ladders. John explains that there was an incident elsewhere in which a person fell into a lock and struggled to get out: this highlighted an issue with some lock ladders which didn't go deep enough into the lock for it to be easy for a person in the water to get their feet onto the bottom rung. So a number of recesses are having to be extended downwards and longer ladders fitted. Even with a combination of power tools and a lump-hammer and cold chisel, the stone-built chamber walls are making it hard work.
It makes sense to take advantage of the dewatering to tackle all the jobs needed – another one is a repair to the electrically powered paddle gear. John describes it using some interesting terminology: the hydraulic drive is connected via a 'nodding donkey' mechanism to a long metal rod disappearing into the ground which ends in a 'tuning fork' that's connected via an oak beam to a flap paddle – and water has been leaking around the flap, so the paddle housing is being repaired.
In addition to the high capacity powered paddles, which fill and empty the lock via side connections from a single culvert running the entire length of the chamber, the earlier manual gate and ground paddles are still in situ. These are being put back into working order so that they can be used as a backup if there is a fault with the powered paddles. Some re-pointing and repair of the lock chamber walls completes the work to be done.
OLD AND NEW
Meanwhile by the time I arrive back at Stanley Ferry workshops, they're just putting the first timbers together for a new pair of gates. Using the travelling crane the bottom beam, the second beam up and the timbers forming the frame around the paddle aperture are being assembled as the first stage.
Two of the staff are old hands, the third is a newcomer operating the crane under supervision. Meanwhile at the other end of the workshop a completed set of gates are having the balance beams lifted off them ready for them to be shipped out to where they're needed, to be installed as part of this winter's stoppage programme. The power crane may be relatively new, power routers may have replaced mallets and chisels, but the basic 'giant woodwork' job goes on as it has done since the canals were built.
STANLEY FERRY – A HISTORY
Stanley Ferry has an interesting waterways history which extends beyond the lock gate workshops – with two other particular features, which we look at below.
Firstly there's the Stanley Ferry Aqueduct – or rather, aqueducts. Most river-based waterways involve the navigation alternating between river sections and artificial cuts, but this is a unique example of the navigation crossing over the river on an aqueduct. It too was part of a programme of improvements which were completed in 1839, involving lengthy artificial cuts replacing meandering lengths of river, and reducing the length of the Wakefield line by five miles.
Designed by George Leather with assistance from Thomas Telford, it is a cast iron trough suspended from cast iron arches by wrought iron rods, crossing the river in a single span. It was one of the first structures in the world of this type, and is the largest aqueduct built entirely of iron.
However, by the 1970s it was suffering from distortion with one of the arches becoming twisted, and there were concerns that collisions from the increasingly heavy freight barges might seriously damage the structure. So a new concrete aqueduct was built alongside for freight traffic, while the original aqueduct was renovated and remains open to other boats.
The final waterways history claim to fame of Stanley Ferry concerns the 'Tom Puddings' – rectangular 20ft by 15ft coal-carrying 'compartment boats' which were coupled together in trains of anything up to 40 and hauled by a tug. They were unloaded at Goole Docks by a hoist lifting them bodily out of the water and tipping them over, emptying the coal out via a chute into the hold of a waiting ship. This ingenious system was invented by the Aire & Calder's William Bartholomew in the 1860s, and was so successful that at its peak there were over 1,000 Tom Puddings in use, they carried one-and-a-half million tonnes of coal a year, and Goole had five hoists including a floating one which could be moved around the docks. They carried their final cargo as recently as 1986.
Much of the coal came down from the Stanley Ferry area, where several collieries were linked to the canal by narrow gauge railway. In the most unusual feature of the Tom Pudding operation, a railway wagon was lowered down a ramp into the water in a canal basin at Stanley Ferry, an empty Tom Pudding was floated onto the wagon, and it was hauled back up the ramp with the Tom Pudding balanced on top. It was then hauled off along the railway to the pit, returned loaded to Stanley Ferry, lowered back down the ramp and floated off again to be coupled up to the rest of the tow and taken off to Goole.
---
To find out more about the Canal and River Trust's restoration and repairs programme visit here.
---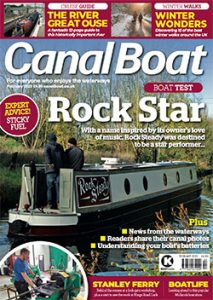 As featured in the February 2023 issue of Canal Boat. Buy the issue here