The ideal profession for a boat-fitter would logically be someone who works with wood and Stewart Simm who trained as a joiner, fits into that category very well as this feature reveals.
---
Words by Adam Porters | Pictures by Andy Annable
---
Over the years, we've met boat builders from all sorts of different working backgrounds, but one profession more than any other seems to dominate. People who started as joiners or cabinet makers seem ideally suited to fitting out boats – which is probably not surprising, given how much wood is used.
What's more, if they're used to making things to order, they're not fazed by the odd shapes and slightly weird angles you find in a narrowboat interior.
The latest trained joiner to join the boat building community is Stewart Simm. But few people have been planning their move for quite as long as he has. Having trained as a joiner, he's spent his career working on building sites. But for the past ten years or so, he's been thinking about a change. Now he's decided that his days of climbing ladders and dealing with scaffolding are over, and boats will offer him a better quality of work.
But there's been another step between that decision, and this, his first boat made for the market. He began by building a boat for himself and his partner – which he says allowed him to learn valuable lessons on the process of boat building. What's more, he's been a boater for many years, so can also bring that experience to his new business.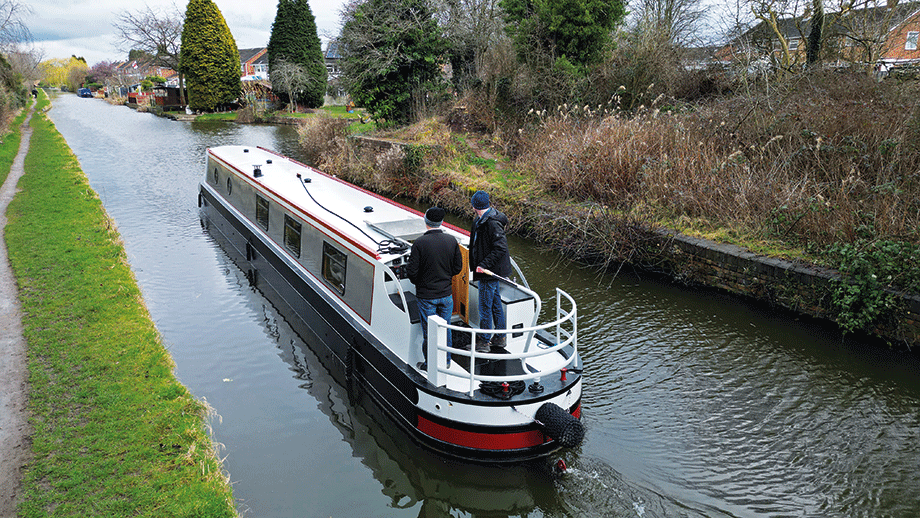 EXTERIOR
This boat is built on a 57ft shell built by JD Narrowboats of Shardlow – just along the canal from where Stewart kept his own boat. JD are well-known makers of decent quality, good value shells. This one has their typical long bow with a good sized well deck. The curve towards the point of the bow starts before the cabin ends, so the forward few inches of the cabin sides also curve inwards. This has the advantage of bringing the top corners of the cabin in slightly, meaning you're less likely to catch them on bridge arches.
The gas locker is in the nose, and it has a nice big hatch with a handle, to make it easier to get bottles in and out. There are lockers on both sides of the well deck for storage, and the water tank is underneath.
The stern is semi-cruiser style, so there are storage lockers both sides of the rear deck. Above them, there's an arch of steel with a nicely shaped cut-out – meaning the deck is partially enclosed, but without looking too heavy. There's a similar feeling behind the tiller, where the deck is surrounded by metal railings, which look rather ship-like. The top railing is tubular, giving some nice contrast to the flat ones below – and because there's no wooden rail on top, maintenance is kept to a minimum. Lights have been fitted on the bow and stern decks, to help you find your way back to the boat after an evening at a canalside pub.
The metalwork all looks good. There are scrolls in the cants at the bow, and the handrail along the roof has a finger grip. The window frames and portholes, by Wesley Windows, are black, and Stewart has used black mushroom vents to match. They work well with the colour scheme which uses a combination of light and dark grey with dark red coachlines and handrails. It's a scheme which looks very contemporary. The boat was painted by Gibson and Kentwright Boat Painters, a firm based at the same marina as Stewart.
LAYOUT AND FITOUT
This is a reverse layout boat, with the galley at the stern. There's a breakfast bar rather than a dinette, leading into the open saloon. A walk-through shower room comes next, with the cabin at the bow.
The fitout uses oak faced ply below the gunwales and painted birch ply on the cabin sides. Again, this is a contemporary way to fit out a boat, and a style which is very popular right now. All the trim and furniture is made of oak, and Stewart has made all the cupboard doors himself. The extensive use of oak throughout the boat gives it a really high-end look and feel – and there's a lot of quality workmanship on show. Everything fits together properly and is well made.
Flooring is engineered oak through most of the boat, with porcelain tiles in the shower room.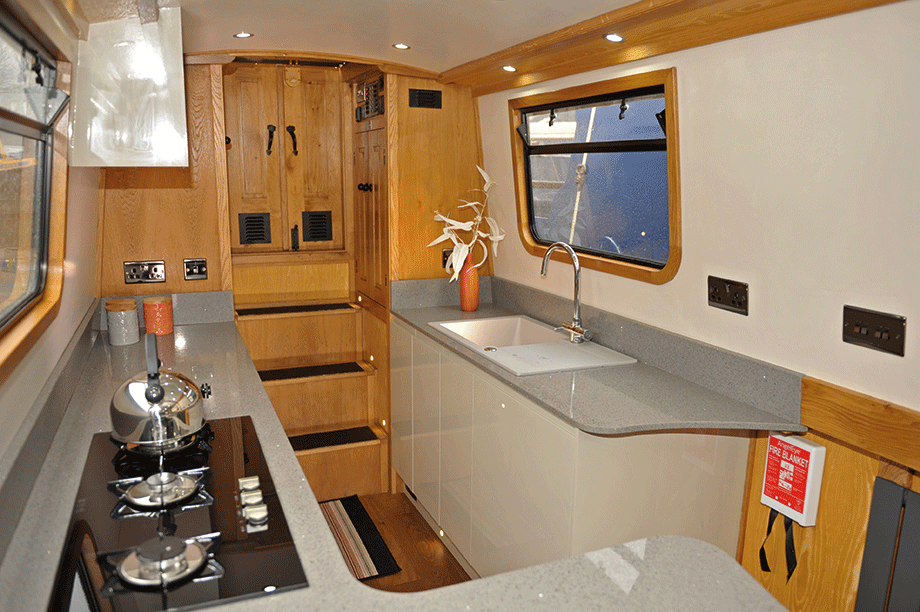 GALLEY
Three steps lead down from the stern deck into the galley. Each one has lifting treads for storage, and there are lights set into the panels alongside to illuminate each step. One of the pieces of knowledge that Stewart brought to the build as a boater, is that everything needs to be accessible, so the entire step unit can be pulled out and the panels alongside can be removed, to give access to the calorifier, for example. It's the sort of thing you won't need to do very often, but when you do, you'll be pleased by the foresight.
Alongside the steps are two cupboards, one housing all the electrics, while the other gives you somewhere to hang coats. In another nice touch, they have lights inside.
The galley proper is thoroughly modern, with glossy grey cupboard doors in a handle-less design and sparkly grey Quartz worktops. The units are from Howdens, and offer a range of cupboards and drawers, and include a magic corner to make sure there's no wasted dead space. There's also a high level cupboard, which had to be adapted slightly to fit against the sloping cabin sides.
Equipment consists of a Thetford oven and grill, and a Thetford three burner gas hob. There's a full size 12-volt Shoreline fridge and a matching full size freezer from the same manufacturer, both of which are integrated, so hidden behind doors. The sink and drainer is made from composite and is set into the worktop.
The breakfast bar is a good size, but perhaps the most notable thing about it is the shape. Stewart has tried to avoid sharp corners throughout the boat, and here is a good example. The Quartz has generously rounded corners with a broad scallop shape between, which not only looks good but reduces the changes of painfully catching yourself against it.
There are plenty of LED lights in the ceiling, but there are additional ones over the sink and the hob, set into the trunking. In a sign of the thought that's been put into this boat, they are switched separately, so you don't need to put them all on. All the switches and sockets throughout the boat are a glossy nickel colour, in keeping with the grey theme.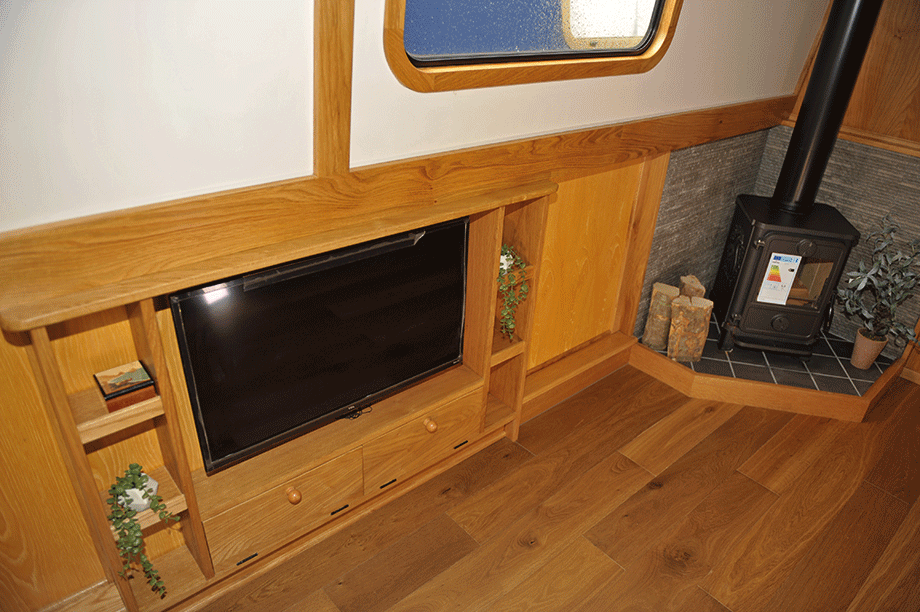 SALOON
The saloon has been left mostly empty for the buyer's own choice of furniture. There's plenty of room for either a couple of armchairs, or if you wanted the flexibility of a guest berth, a decent sized sofa bed would fit. Similarly, there are no curtains or blinds at the moment, giving whoever buys this boat a chance to choose something to their own taste.
An under-gunwale tv unit also provides a few shelves, and a couple of cupboards with drop-down doors. There's a Morso Squirrel stove on a tiled hearth and with slate tiles behind. It has a full double insulated flue, which meet the current installation guidelines. On the opposite side of the boat, there's LED lighting under the gunwales.
A side hatch provides somewhere to feed the ducks from. These doors, and indeed the doors at either end of the shower room and all the wardrobes in the cabin, are fitted with black ironmongery, which gives a real solid feel.
SHOWER ROOM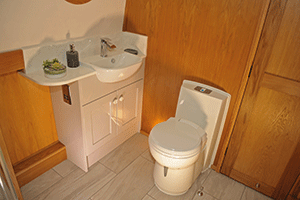 This is a very generously proportioned room. The shower cubicle is an 800mm quadrant, with trendy brick-pattern white tiles. There's a bit of storage space alongside, which has a liftable base so the shower pump can be accessed. A white unit offers a couple of cupboards, and carries a white basin set into a Quartz worktop, in the sparkly white version of the grey seen in the galley. The toilet is a cassette model by Thetford; access to the cassette is through the bed base immediately behind.
Perhaps one of the best things in the shower room is the large and stylish heated towel rail, from Victorian Plumbing. It matches the other anthracite radiators in the boat, and offers plenty of room for two towels while still fitting under the gunwales; it's far better than the tiny heated rails we've seen in many boats.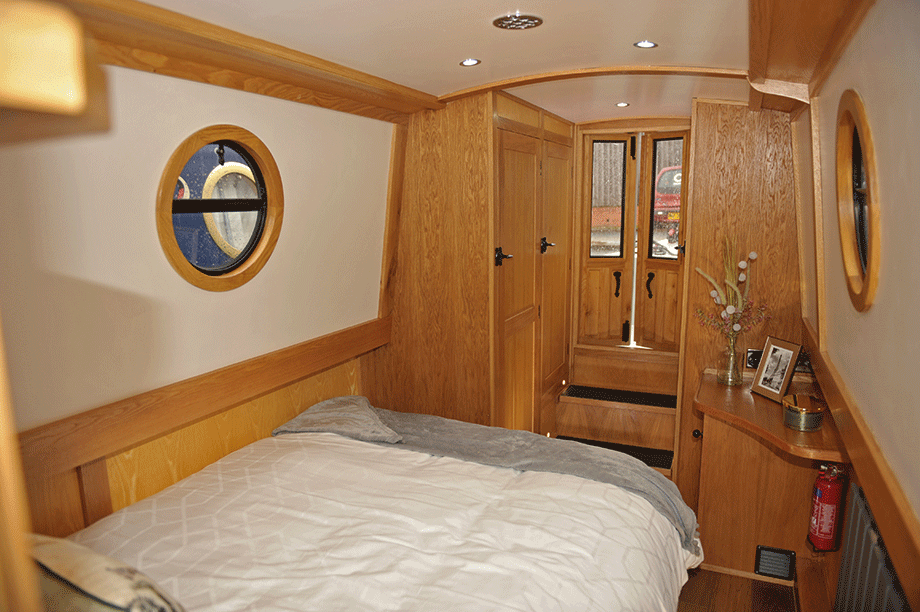 CABIN
The bed is inline, and 4ft wide. The base is divided into two sections, with the far side available for long term storage, accessible through the top. The nearside has cupboard doors along its length, the first of which gives access to the loo cassette. But here's another example of forward thinking: the area has been designed so that a future owner could easily change the cassette loo for a pump out. The nearside storage area would house the holding tank, which would be on the centre line of the boat.
Above the head of the bed is a simple shelf, with dimmable reading lights underneath. There's plenty of storage space, with wardrobes both sides of the bow doors. These have chunky black iron catches, on doors which are all hand-made by Stewart. There's also a lower unit forming a sort of dressing table, which has a top with more curves. The steps up to the well deck have lifting treads, and there are more little lights to illuminate the way.
All in all, this is a very comfortable and relaxing room.
TECHNICAL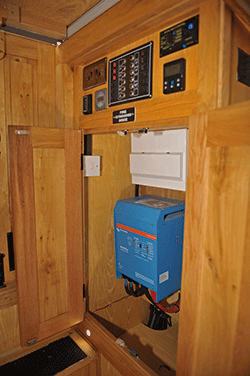 This boat is fairly straightforward technically. It's powered by a ubiquitous Beta 43, which means you will never have a problem finding someone who knows how to service or repair it. Electrical power comes from four 110Ah domestic batteries (and there's another for the engine). A 240-volt supply is via a 3kw Victron Multiplus inverter charger, complete with a battery management system. Central heating is from a Eberspacher diesel boiler.
As Stewart is a joiner rather than a mechanic or electrician, he's taken a very sensible approach to these aspects of boat building. He bought the shell as a sailaway, with the engine already installed. And he brought in Clive Penny, who's an expert on boat electrics as well as being a BSS examiner, to handle the electrical side of things.
ON THE WATER
Before we could go anywhere on this boat, we had to extract it from a very tight marina berth, which was a good test in itself – particularly of going backwards and manoeuvring in tight spaces. It was here that a bow thruster might have been useful, although the fact that we got out (and back in) without one shows that it's far from essential.
Out on the canal, the boat handles very well. It goes where it's pointed, it responds promptly to the tiller, and we turned around with minimal fuss. The engine is quiet, and the lockers on the stern deck provide somewhere for crew to sit and keep the helmsman company.
There's always one complaint with cruiser and semi-cruiser sterns, though, and that is that the Morse control is always set fairly low down – a function of the style of stern. It's just one of those things that you have to get used to. The tiller is at a nice height though, and feels solid enough.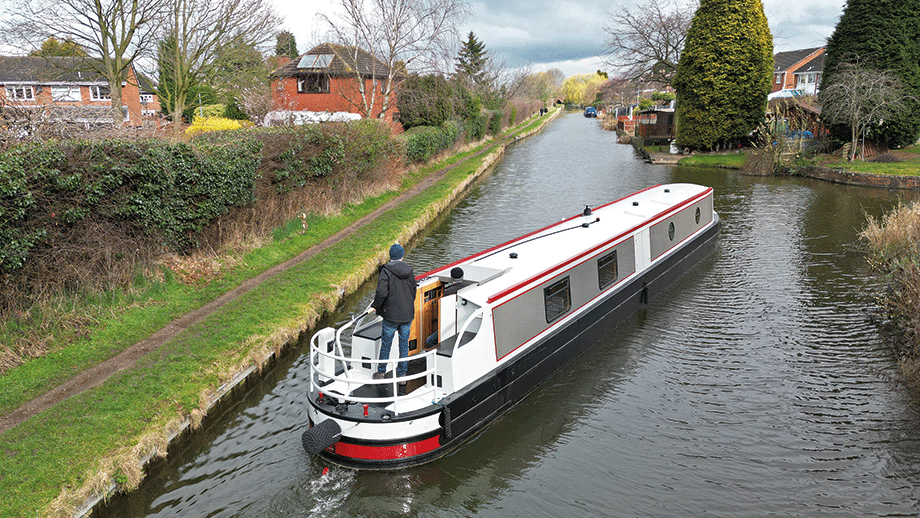 CONCLUSION
There is a lot to like about this boat – and a lot to admire from a new builder. The fitout feels solid and high end, and there's some excellent joinery on show. Stewart Simm has also brought his knowledge of boats and boating with him, making sure everything is accessible, and that a future owner could make changes relatively easily.
At the time of our test, the boat was for sale through Norton Canes at Glascote Basin on the Coventry Canal at Tamworth, priced at £159,950. That sounds like a lot of money for a spec boat, and a few years ago it would have been. But as we've said repeatedly over the past couple of years, the price of everything from steel to wood has rocketed, and it would be difficult to build a boat using quality materials for much less. And don't forget that for a one-man band like Stewart, a boat takes around nine months to build, and he still needs to make a living.
So this boat proves yet again that people who know joinery often make good boat builders. Joinery is crucial to success of any boat, and when you add the knowledge that being a boater brings, things just get better..
---
The Builder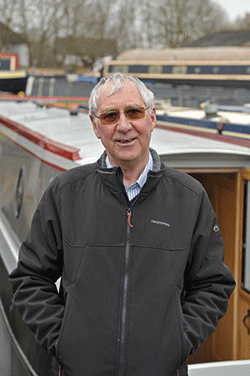 Stewart Simm trained as a joiner and carpenter, but for the past 30 years has been running his own building company – meaning he's gained even more skills that are useful in boat building. His firm has done everything from working with big house builders on new developments, to building extensions for individuals.
But boating has also played a part in his life for many years. He owned a Norman cruiser, based on the Trent and Mersey at Shardlow, and has been planning a narrowboat build for years. He's set himself up at Redhill Marina, near the junction of the River Soar and the Trent, where he has a workshop and storage unit, and has fitted out his boats on hard standing. It's a good place to be based, as there are several boat businesses there including the one which painted the boat.
He's hoping to build at least one boat a year, and says he'd love to get an order for a bespoke boat.
---
Specification
Length: 57ft
Beam: 6ft 10in
Shell: JD Narrowboats www.jdnarrowboats.com
Style: Semi-cruiser
Layout: Reverse
Berths: 2
Fit-out: Oak and painted panels
Engine: Beta 43 www.betamarine.co.uk
Inverter: Victron 3kw www.victronenergy.com
Heated towel rail: Milan curved flat panel 600×500 www.victorianplumbing.co.uk £189.95
Galley units: Howdens Clerkenwell Gloss www.howdens.com
£159,950

CONTACT:
S Simm Ltd
07711 306837 / stewart@ssimmltd.co.uk
---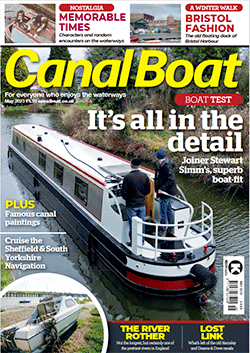 As featured in the May 2023 issue of Canal Boat. Buy the issue here