Rock Steady might only be boat builder Jamie Franklin's second full build, but if the quality seen here is anything to go by he's going to have many more happy customers to come.
---
Words by Adam Porters | Pictures by Andy Annable
---
There are various ways of choosing the builder of your new boat. We'd recommend drawing up a shortlist of builders whose work you like, visiting them at their yards and thoroughly checking out them and their firm.
But when Steve Boyden was looking for a builder, he wanted to keep things local, so he could closely monitor the build. He was living in Fradley, close to the charming Fradley Junction with its cafés and pub, so he researched whether there were any builders nearby.
And there were: JF Boat Building, just along the canal near King's Bromley. He visited to look at Jamie Franklin's previous work, and put his order in. The boat, Rock Steady, is just Jamie's second full build, and the firm was only set up at the start of 2022.
Before that, he worked as a mobile joiner, and at another boat building firm. So the experience was there, even though the company is pretty new. And as we'll see, the result is a boat with real touches of luxury, which many a longer-established firm would be proud of.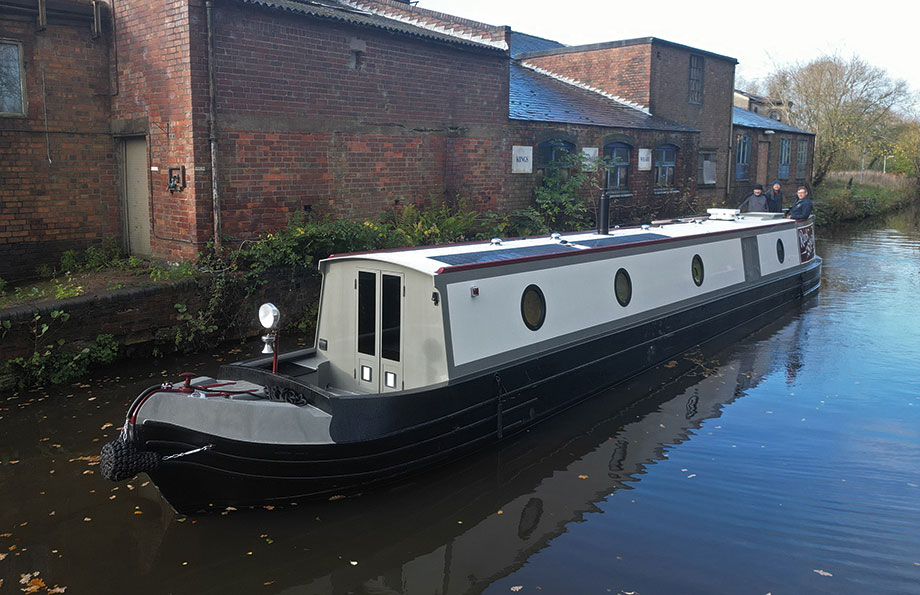 EXTERIOR
Rock Steady is a 58ft semi-trad, built on a very nice 'Mike Christian' shell by Tim Tyler. As you'd expect from one of the country's top shell builders, the steelwork is very good. Detailing is subtle, with gentle curves at the ends of the handrails and cants rather than full scrolls.
The Josher-style bow is long and elegant, with a substantial stem post. The well deck has a cross locker which gives access to the bow thruster tube, but also has a false floor so the upper part can be used for storage. There are also lockers both sides, which are shaped to allow the bow doors to open fully. As there's no cratch cover, the horn and an impressive tunnel light are mounted on a post. The gas locker is in the nose, and the water tank is under the well deck.
The semi-trad stern deck is quite short, but Steve will normally be on his own so masses of space here wasn't a priority. There are storage lockers both sides, giving any crew somewhere to perch – but they aren't shaped to fit the opening doors; had they been, they'd have been too short to be of much use.
The boat was painted in-house at JF Boat Building, using two pack paint in the traditional way with rollers and brushes. It's been done to a very high quality finish. The colour scheme uses a very pale grey teamed with a darker shade which has just a hint of green in it. The handrails and trim are maroon. All in all, it's a scheme which looks contemporary without being brash, and bright without being gaudy.
The sign writing, which is big and bold, uses the same colours and is by Steve Evans. The boat's name reflects the owner's love of rock music, and in particular Paul Rodgers, the lead singer with bands including Free.
The portholes are by Caldwells and are double glazed. The black frames suit the colour scheme. The mushroom vents and other trim are in chrome, adding to the contemporary look.
LAYOUT AND FITOUT
This is a reverse layout boat with the galley at the stern. This incorporates a breakfast bar which fronts onto the saloon. A walk-through shower room comes next, with the cabin at the bow.
The fitout uses painted panels on the cabin sides, and oak faced ply below the gunwales. All the trim is solid oak. The fitted furniture has been built in-house, as you might expect from a builder who's a joiner. Everything is made to a high standard.
The floor is Amtico LVT, laid in a herringbone pattern. It's a hardwearing and practical material chosen so there's no need to take your shoes off before coming inside.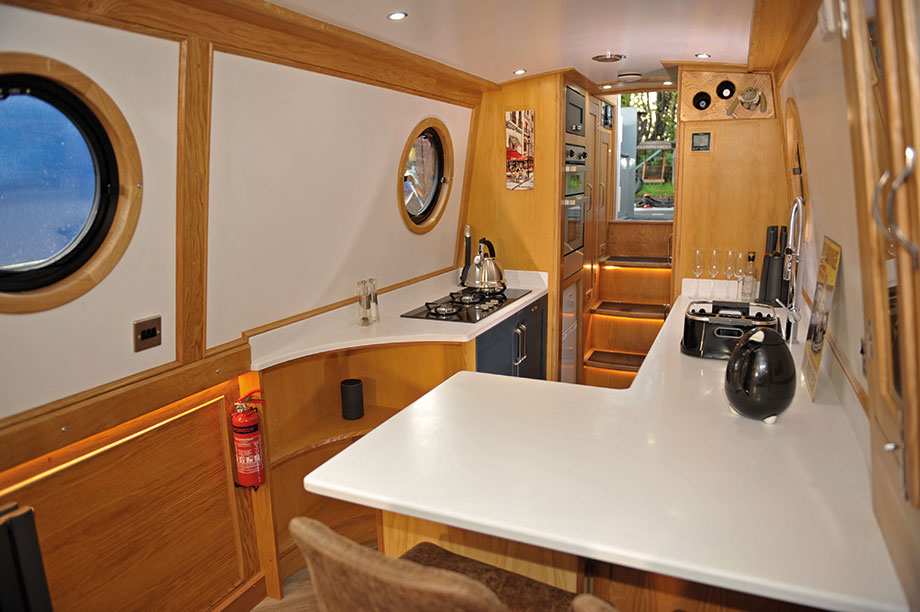 GALLEY
Three steps lead down from the stern deck into the galley, and they all have lifting treads for storage. On either side there's a short cupboard and a full height one, useful for keeping a mop and broom, or for hanging coats. One of the short cupboards contains all the electrics; on the opposite side is the calorifier.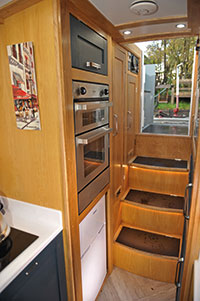 Full height units come next. On one side there's a 12 volt Shoreline fridge, with a Thetford oven and grill above. Opposite there's a washing machine hidden behind a door, plus a microwave and a couple of other cupboards. This unit also has three high level slots for wine bottles in the end.
All the galley units are built in-house and offer a range of cupboards and drawers. There are more drawers in the plinths too, so no space is wasted. The doors are painted in a dark blue and have stylish handles, and the units are topped by white Corian worktops, giving a very high end feel. There's a grey moulded sink with an impressively tall arched tap with a pull hose, while opposite is a three-burner Thetford hob. The end of this shorter run of units finishes with a sweeping curve, with matching shelves underneath.
There's a touch of glamour in the form of two wine stores set into the floor, with glass covers. You can walk over them, although that might take a bit of getting used to: during our test we found we kept stepping over them, or to the side! What's more, there's lighting inside, so you can really show off your wine cellar. In fact there's lovely lighting everywhere, with LED strips under the step treads and under the gunwales. Steve Boyden says that in the evening, just having these on creates a lovely atmosphere, and means he doesn't need to use the LED lights set into the ceiling. A breakfast bar is a space-saving way of providing somewhere to sit and eat, and there are two comfortable stools. There's an additional cupboard here too, making good use of what would otherwise be a dead corner. There's also a set of side doors here with glazed inner doors, meaning you can get some extra light and an extra view, even when the weather isn't ideal.
SALOON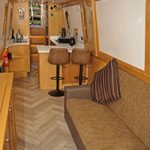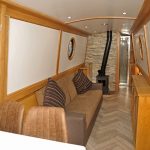 A large sofa bed from Elite Furnishings provides a comfortable place to sit, and accommodation for guests. Opposite there's a substantial unit of cupboards. When an electric motor can be sourced, the tv will rise electronically from inside the unit, through a flap in the top. It's connected to a Snipe self-seeking satellite dish on the roof.
An attractive stone-backed hearth carries the latest Morso Squirrel stove. It's been fitted to comply with all the latest guidance, including having a double insulated flue. Alongside the stove is a shelving unit, which could be a good place to store logs. In addition to the stove, there's a smart grey column radiator.
SHOWER ROOM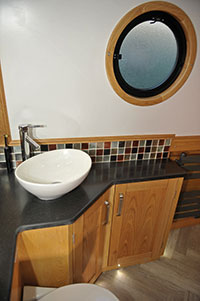 This is a very well appointed space, with a luxury feel. The quadrant shower is a good size, and is lined with shower board in a driftwood finish. While it looks like planks, it actually comes in sheets, so the only join is at the corner. There are flash Grohe shower controls, and the drencher shower head is set into the ceiling.
In the diagonally opposite corner of the room is a substantial unit with storage cupboards and black Corian worktop. A large white oval basin sits on top, with a separate tap. Behind, there are glass mosaic tiles as a splashback, and the whole of the width of the bulkhead is taken up with a mirror.
The loo is a macerating unit by Vetus. The holding tank is set across the boat at the stern, behind the steps down into the galley. That means there's quite a long run of pipe between the two, which always makes me a little nervous. However, it is quite a large diameter, and all but a foot or so at each end is a solid pipe rather than a flexible one, which should minimise the chances of a blockage or a leak.
CABIN
The bed is set across the boat, so needs making up each night. This is relatively easy though, because the bottom half of the mattress is housed in a large under-gunwale unit. The front of this, which is made to look like cupboard doors, drops down to provide the infill to the bed base, bringing the mattress with it. The remainder of the bed base provides plenty of space for longer term storage.
Either side of the bed is a low drawer unit which acts as a bedside cabinet, with a narrow wardrobe on top. There is another substantial corner cupboard on the other side of the bow doors. There's also some storage space in the step up to the front deck. The windows in the bow doors are bonded double glazed units, again from Caldwells, to keep out noise and draughts.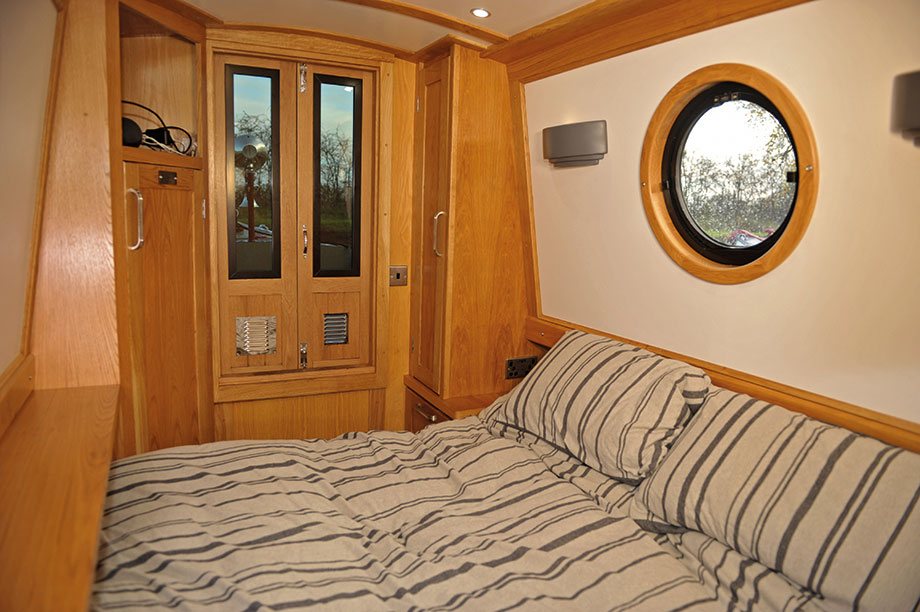 ON THE WATER
This is a boat which handles extremely well. This shouldn't come as a surprise, because we always find that Tim Tyler's boats are some of the best handling on the cut. It responds quickly to the tiller, and turns very well: push the tiller over and apply some power and the bow moves round very well, making winding easy. And if you need a little more help to move the bow, perhaps to battle the wind, the Vetus bow thruster has plenty of grunt. Reversing back into the boat's berth, we also found that it goes in a straight line backwards.
There's a hospital silencer on the exhaust and sound insulation under the deck boards, so the engine is nice and quiet when you're at the helm. The Morse control is mounted on a column at the stern and is at a nice height. The bow thruster controls are also easy to see and use. The instrument panel is just inside the stern doors, so is not hard to see if you need to.
TECHNICAL
This boat is relatively straightforward when it comes to the technical side of things. It's powered by the ubiquitous Beta 43 engine, which will be familiar to every boatyard in the country. There's also a Vetus 75kgf bow thruster.
Electrical power comes from four 200Ah AGM batteries; there's a 240 volt supply from a Victron 3kw inverter. Four semi-flexible solar panels on the roof, giving an array of 500 watts, help keep the batteries charged, and there are shoreline points at both ends of the boat.
Central heating comes from a Webasto diesel boiler.
CONCLUSION
This is undoubtedly a good quality boat which has been built to a very high standard. It's based on a shell which looks good and moves well through the water. The paintwork is top notch, and the whole boat just looks right.
Inside, the quality of the joinery is really good. Everything fits together properly, and feels solidly made. Quality materials have been used throughout too – Corian, Amtico and Grohe are all good brands which contribute to that feeling of luxury.
If you ordered a boat like this today, Jamie Franklin says it would cost around £170,000. That's more than Steve Boyden paid, because the price of almost everything has sky rocketed.
As we've discussed on a monthly basis for the last couple of years, steel, wood and components all cost more than they used to. In fact, Jamie says he has to check the price of everything before he gives a quote, as they change so often.
So Steve Boyden's method of choosing his boat builder might have been slightly unusual, but it's worked out well. When it comes down to it, of course, the main thing is to find a builder that you get on with and you trust. You both need to be working towards the same aim to ensure the finished product is exactly what you want.
But if that boat builder happens to be virtually on your doorstep, then so much the better.
---
The Owner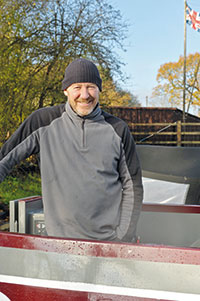 For Steve Boyden, getting his own boat has been a long process. He started buying one in 2006, but his circumstances changed and it didn't happen. But now the time is right: he's semi-retired, working three days a week as a gas engineer and his children have grown up and left home.
He's also a motorcyclist, and has done plenty of long trips exploring Europe, the US and Canada. Now he wants to explore the UK by water. So he's sold his house and changed his life to that of a liveaboard.
He's taken a mooring, but at the same time is planning to travel as much as possible. Fortunately, the part of the canal system round Fradley and Lichfield offers plenty of options for short trips on his days off, and longer journeys when he has the time.
---
The Builder
JF BOAT BUILDING – Jamie Franklin set up his firm around a year ago, but he has plenty of experience as a joiner, working for another bespoke boat builder and for himself.
The firm is based at a small marina on the Trent & Mersey Canal near Lichfield. The facilities at Wharf Farm Barn are excellent. As well as a handful of moorings, there's a building which has a dry dock for blacking and painting, with an office and workshop on the floor above.
Jamie employs three other staff and between them they have all the skills that a boat building firm needs – from joinery, to painting and engineering. Indeed, boat fitting is only part of the firm's services. They'll do electrics, including solar installs, repaints and even offer a call-out service.
The decision to concentrate on high quality materials and workmanship is a conscious one, and one that should really pay off. It's rare that we see such an accomplished boat from such a young firm.
The next boat in build is a share boat, which will be operated through BCBM. Share boating can be a really cost-effective way of getting on the water, especially if you don't think you'll have the time to use a boat all year round. Silken Mist is due to be on show at the Crick Boat Show in May.
---
Specification
Total price in excess of c.£170,000
LENGTH: 58ft
BEAM: 6ft 10in
SHELL: Tim Tyler (www.timtylerboats.com)
STYLE: Semi-trad
LAYOUT: Reverse
BERTHS: 2+2
FIT-OUT: Oak and painted panels
ENGINE: Beta 43 (www.betamarine.co.uk)
BOW THRUSTER: Vetus 75kgf (www.vetus.com)
INVERTER: Victron 3kw (www.victronenergy.com)
CONTACT: JF Boat Building
Wharf Farm Barn Marina
Lichfield Road, Lichfield, Staffordshire WS13 8HS
T: 07949 043455
E: info@jfboatbuilding.com
W: jfboatbuilding.com
---
Watch a video of Steve taking Rock Steady on his first little cruise on the Trent & Mersey Canal on the Canal Boat Facebook page (www.facebook.com/canalboat).
---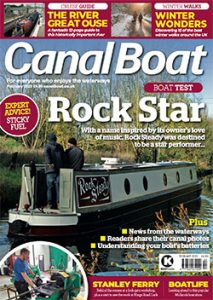 As featured in the February 2023 issue of Canal Boat. Buy the issue here