When the kids have left home and you want a more relaxed and clutter-free life, then downsizing may be an option, if of course, you can find a builder!
---
Words by Adam Porters | Pictures by Andy Annable
---
As you get older, downsizing becomes something you probably think about more. It's popular with houses, because you need less space once the kids have left home, and a smaller property is clearly easier to manage. Downsizing is also easy enough when it comes to cars – and I've even heard of people getting a smaller dog because they're easier to handle.
And it also makes sense to downsize your boat. Smaller boats are lighter and should be easier to handle; pulling 20 tonnes of boat into the side against the wind is bad enough if you're young and fit. But while there used to be lots of smaller boats built, today they're something of a rarity. It's true that there are off-the-peg options, but if you want something built bespoke to your requirements then you might struggle to find a builder.
The reason, is that if you look at the price per foot of a smaller boat, they look very expensive. After all, you still need most of the things that a longer boat has: the shell has a bow and a stern, which are the complicated and therefore the most-costly bits; you still need an engine, a gearbox, batteries, an inverter, and a stove; and you need a galley, seating, and a bed. And because the boat is smaller, the fitout could actually be more complicated because of the lack of space.
Fortunately, Rod Allister and his wife Eileen found a builder who was prepared to build the smaller boat they wanted – Andrew Crook at Brayzel Narrowboats at Garstang in Lancashire. The original idea was for a 38 footer, but it grew slightly to 41 feet in order to fit everything in. As we'll see, the result is a boat which perfectly suits the couples' needs as they get older.
EXTERIOR
Diamond is built on a shell by Cauldon Boats, a firm which specialises in good quality shells at reasonable prices. Proportions are everything when it comes to making any boat look right, but in many ways it's more important with a shorter one. In this case, the bow is a nice shape and is still a decent length, as is the well deck. Together they're 7ft long, showing that the owners and builders have resisted the temptation to maximise internal space at the expense of the bow – something which can make many small boat look very stubby nosed.
The steelwork looks good, and there are some nice features. There are nice curves at the ends of the handrails, and the forward bulkhead is set back by a few inches, giving an overhang to the roof and cabin sides. This improves the look of the boat, and means that if you happen to catch the corner on a bridge you'll do less damage. The forward edges of the cabin sides are nicely shaped, and there's a rolled piping effect so there are no sharp edges. The same technique is used at the stern. There are fender eyes on the gunwales, but as they stand proud you need to be aware of them or they could trip you up.
There's a large storage locker in the nose, and it has a large hatch to make it easier to get things in and out. A stainless steel water tank is under the well deck. The cruiser stern is a bit shorter than you'd find on a longer boat. It has a metal dodger round the back of the deck, topped with hardwood rails. There are lockers either side of the deck, one being the gas locker and the other holding a spare bottle. It's a sensible place for the gas lockers to be, especially for older owners, because they're far more accessible than having to balance on the nose.
The colour scheme uses a classic combination of dark blue borders and grey panels, with a white coachline in between. The signwriting is by Cross County Signs, and is very well done. As well as the name, on the stern dodger, there's the Allister family crest on the side of the boat. All the trim is in chrome, which needs less cleaning than brass. The single glazed portholes are by Cauldwell's Windows.
LAYOUT AND FITOUT
There's a temptation with a shorter boat to follow the usual layout of longer ones, with a saloon, galley, shower room and separate cabin, in either standard or reverse format. But this boat quite sensibly rejects this idea and puts all the living areas together, in one open-plan space. So there's a seating area at the bow, followed by the galley, then an L-shaped dinette. It means the boat feels spacious rather than small. An off-corridor shower room is tucked in before the steps which lead up to the back deck.
The fitout uses oak faced ply and painted panels to give a contemporary look. In fact, the painted sections are the same oak as the unpainted ones, so the texture of the grain can still be seen through. All the furniture (and there is a lot of it!) is solidly built, and we liked the attention to detail such as the matching up of the wood grain.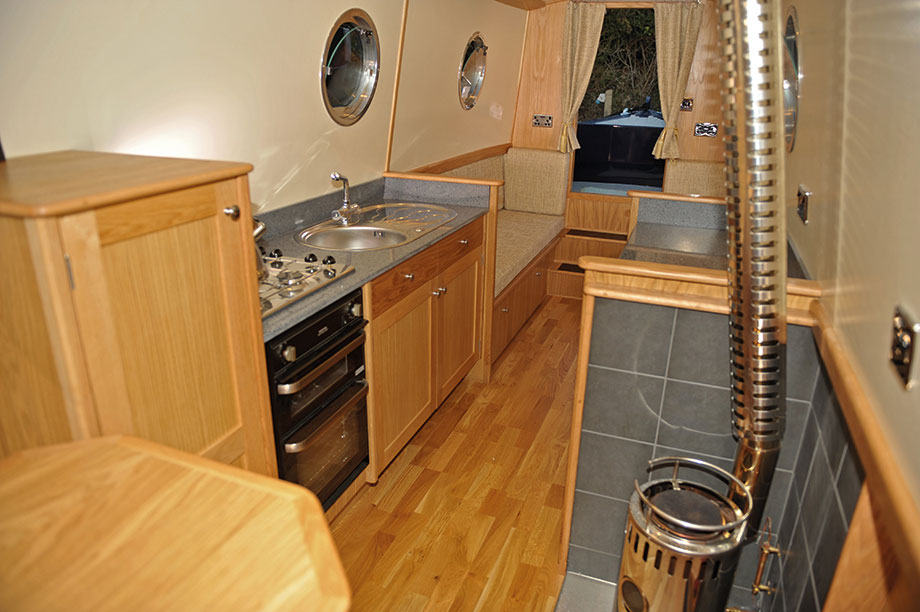 LIVING AREA
As the whole living space in this boat is really one single room, we'll look at it all together. A couple of steps lead down from the well deck, with lifting treads for storage. There are built-in bench seats either side of the boat. One has a giant drawer in the base, while the other has a radiator underneath, because there isn't any spare hull side to put it on. There's longer term storage in the base of this bench. These seats can either be used as two single beds, or converted into a cross-bed that's larger than a double. There are some boards which cover the gangway to make the base complete.
The galley is compact but has everything you need. On one side there's a Thetford oven and hob, and a stainless steel sink and drainer. There's a cutlery drawer and some cupboards. On the other side there's more storage and a 240 volt fridge by Fridgemaster. Every inch of space is valuable in a boat of this size, so there are drawers in the kick-space too.
The worktops are made from Mirostone®, which looks and feels like a stone or quartz, but is actually a composite material which can be worked with normal woodworking tools. It means boat builders can install them themselves, without needing another company to come in, and without the delays caused by needing to make precise templates first.
At the end of one run of units is a three-quarter height wardrobe which even provides some hanging space. A small TV could be put on top. On the opposite side is a Refleks diesel stove. As well as a tiled area behind, it sits in a steel drip tray, so that if there was ever a diesel leak, it would be contained. A diesel stove rather than a solid fuel one is another sensible choice for owners who don't want to have to carry heavy bags of coal or logs around. In addition, Rod is an asthmatic so didn't want the added dust which a log burner produces. Refleks' stoves have a perhaps unfair reputation for needing a particular knack to light – but Rod says he's mastered it quickly, and it's not at all difficult.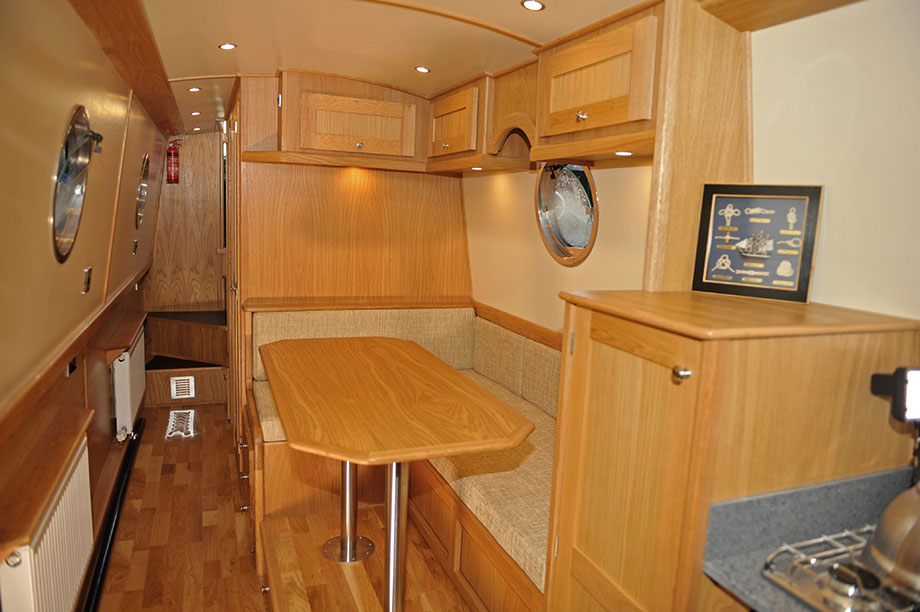 There's plenty of storage in the L-shaped dinette. The longer bench has long term storage accessed through the top, while the shorter run has a chest of drawers in the end. The whole thing is raised, and there are a couple of drawers in the base too. There's further storage in a run of high level cupboards, each of which has a downlighter underneath.
To convert to a double bed, the table is taken off its Desmo legs and rested on a pull-out frame to complete the base. The cushions can then be rearranged to form a mattress. One disadvantage of the layout of this boat is that both beds need to be converted and made up each night. But as the owners are not planning long trips, it's a compromise they were prepared to make.
Opposite the dinette is a white radiator. A nice touch is a little shelf above; there's another one towards the stern.
SHOWER ROOM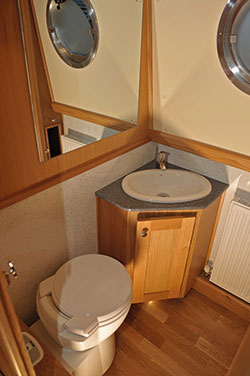 Along the corridor which leads past the shower room to the steps up to the stern deck is a full height cupboard, using space stolen from alongside the shower cubicle. It's a much better use of those few inches, as they are fully accessible and useful. The shower room itself takes up just 5ft 6in of the boat's length, so is fairly compact. There's a square shower cubicle with a folding door, and lined with Fibo waterproof laminate in a finish called sugar sparkle. The same panels are used on the lower half of the room's walls, to make them easier to clean. A corner cupboard provides some storage and carries a white oval basin, and there's a large mirror above. There's more storage in high level cupboards.
The loo is a cassette model by Thetford, with access to the cassette out in the corridor. It has a porcelain bowl, but has been specified without the high plastic back, so it looks more like a normal toilet. A really nice touch is that there's floor level lighting, to illuminate the way for night-time loo trips, without waking anyone else up.
STERN ACCESS
Broad steps wind up from inside the boat to the stern deck. At first glance you might think these steps take up more than their fair share of the boat's limited length, but in fact they earn their keep. Firstly, they make access to the boat very easy compared with a set of ladder steps. Secondly, they provide acres of storage space, as each one has a lifting tread.
As you step into the boat from the deck, there's an instrument panel on the left-hand side, with the electrical cupboard below.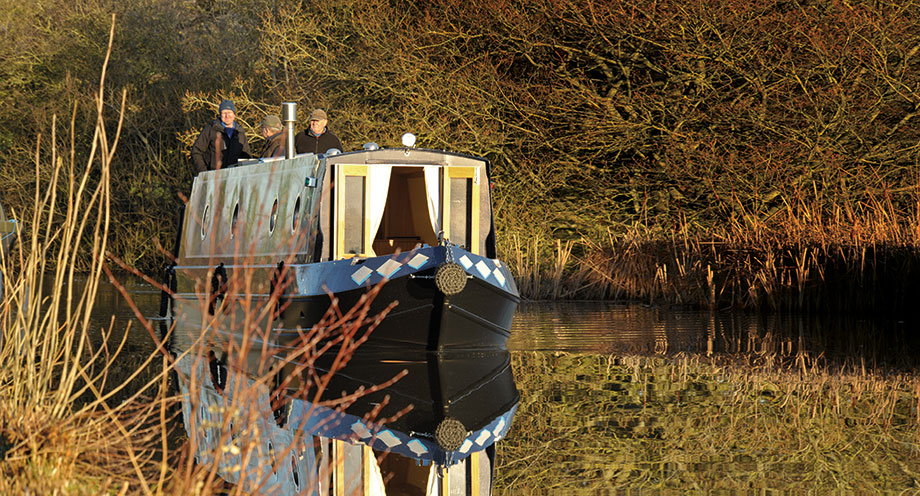 ON THE WATER
The whole point of having a small boat is the ease of handling, and the good news is that this boat handles extremely well. It goes exactly where it's pointed and responds well to the tiller. It might be small, but it still feels solidly sat in the water, and there's enough weight to the tiller.
There's no bow thruster, but it doesn't need one because it turns exceptionally well. Our test involved reversing out of a slightly tricky berth and turning right round, even before we'd got out of the marina. When you push the tiller over and apply some power, the bow moves round almost as if there were a thruster fitted.
The instrument panel is just inside the rear hatch, so you can see it from the helm if you want to. The tiller is at a nice height, but as is usually the case on cruiser stern boats the Morse control is quite low down.
At 7ft, the stern deck isn't huge, but there's still room for company for the helmsman, and the gas lockers provide a perch for crew to sit on.
TECHNICAL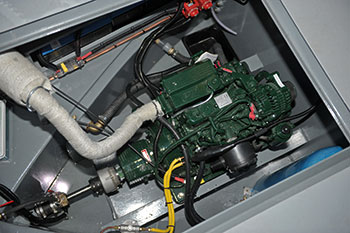 While this boat is relatively straightforward technically, it's also the case that it has the best of what's on offer. It's powered by a Beta 30hp engine, the smaller brother of the ubiquitous Beta 43. 30hp is plenty for a boat of this size. It has the optional upgraded control panel, rather than the one which just has a rev counter.
Electrical power comes from four 110Ah lead acid batteries (and there's another one for the engine). There's a substantial 3kw Victron inverter charger, with a Victron BMV battery monitor. There are shore power points at both the bow and the stern so it doesn't matter which way round you moor, and there are two 130 watt solar panels on the roof to help keep the batteries topped up. Central heating comes from a 5kw Webasto diesel boiler.
CONCLUSION
This is a lovely little boat which makes great use of relatively little space. It looks good, it's well fitted out, and it handles nicely. It's well equipped and provides everything you'd want for a holiday afloat (and of course plenty of people live full time on boats this size).
As we pointed out at the start, shorter boats are often considerably more expensive per foot than longer boats – and as we've pointed out for many months now, the prices of components and fitout materials have rocketed and continue to rise. If you wanted a boat like Diamond and were ordering one for the future, you'd undoubtedly be paying more than the £100,000 that this boat cost. Even so, in the current climate, that looks like good value for money.
So, if you're thinking of downsizing your boat, there are options out there, even bespoke ones, that won't break the bank. This boat shows that with a bit of thought, and a builder who knows what they're doing, a small boat can be just as satisfying as a long one.
---
The Owners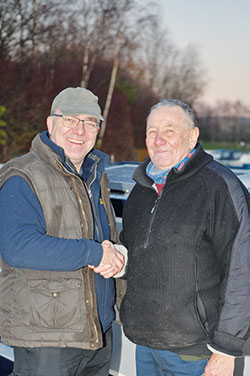 You wouldn't know it from hearing him talk, but Rod Allister is Australian. He came to the UK in the early 1960s when he was serving with the Australian armed forces, and worked with the 1st King's Regiment based at Preston. His military career took him around the world, to places including Kenya, Bahrain, and Germany, where he helped guard Rudolf Hess in Spandau prison. But it was in Lancashire where he met his wife and settled down.
Rod, who admits he's heading towards 80, has been interested in boats his whole life, and has owned fifteen narrowboats over the past fifty years. That means he knows what he's talking about, and knows a decent boat builder when he sees one.
These days the couple have a holiday cabin near the Lancaster Canal, so intend to use their new boat for day trips and short breaks rather than long journeys. That explains many of the decisions they made about the layout and style of the boat.
---
The Builder
BRAYZEL NARROWBOATS
Andrew Crook has been building boats since he left school, having enjoyed messing about in dinghies and cruisers as a child. He worked first for other people before deciding to set up on his own. ​Brayzel has been going since 1999. Andrew has a handful of full time staff, plus others who come in and do the more specialist trades.
They build three to four boats a year — all of them bespoke to the customer's requirements. Andrew is also well known, it seems, for the quality of the tea he makes his customers on visits.
Brayzel has a workshop at a marina on the Lancaster Canal — and most of the boats he builds get two launches, one there to make sure everything is right, and another on the main network (most customers don't seem that keen on taking their brand new boat down the Ribble Link). Diamond, though, is staying on the Lanky.
---
Specification
£100,000
LENGTH: 41ft
BEAM: 6ft 10in
SHELL: Cauldon Boats 07557 515145
STYLE: Cruiser
LAYOUT: Standard
BERTHS: 2+2
FIT-OUT: Oak and painted panels
ENGINE: Beta 30 (www.betamarine.co.uk)
BOW THRUSTER: Vetus 75kgf (www.vetus.com)
INVERTER: Victron 3kw (www.victronenergy.com)
WORKTOPS: Mirostone (www.mirostone.co.uk)
SHOWER LAMINATE: Fibo sugar sparkle (www.fibo.co.uk)
CONTACT:
Brayzel Narrowboats
Nateby Crossing Lane
Garstang
Lancashire PR3 0JJ
T: 01995 601515
W: www.brayzelnarrowboats.com
---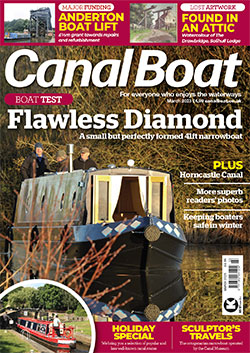 As featured in the March 2023 issue of Canal Boat. Buy the issue here